How To: Choose The Right Philips Sonicare Toothbrush Head For You?
Oct 13. 2022 by
Shaver Shop Team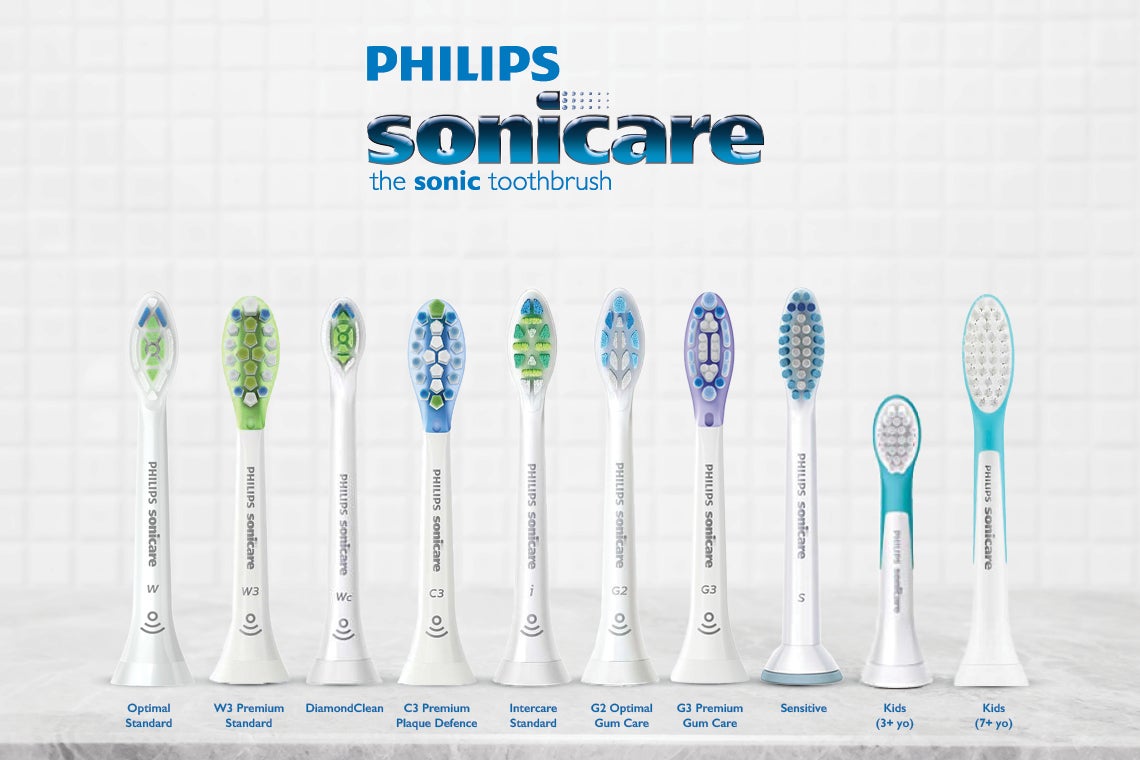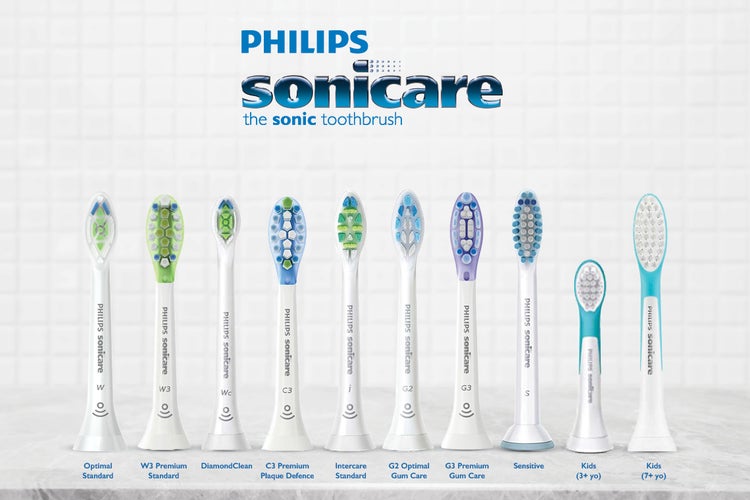 What's at the top of your oral hygiene must-haves? Effective cleaning, plaque removal and a fresh mouth are assured with all Philips Sonicare brush heads, but since each of us has our own additional and specific goals when it comes to our personal oral care routines, it can be difficult to know which toothbrush will work for us.

Do you want extra whitening results? Do you want to improve and maintain optimum gum health? Are your teeth and gums sensitive? What's ideal for kids? Philips has a range of Sonicare toothbrushes that are tailored to different needs:
Best for Whitening
Philips Sonicare W3 Premium White
Want visibly whiter teeth in just a matter of days? Boost your smile whiteness with the W3 Premium White brush head and let the polishing bristles do the work on stubborn surface stains, offering an exceptional deep clean that removes 100 per cent more stains than regular manual brushing.
Philips Sonicare WC Diamond Clean
These diamond-shaped bristles are densely packed to remove food and drink surface stains for a noticeably whiter smile in one week. WC Diamond Clean brush heads. Maintain brightness between professional whitening treatments and go beyond deep cleaning to achieve dazzling results!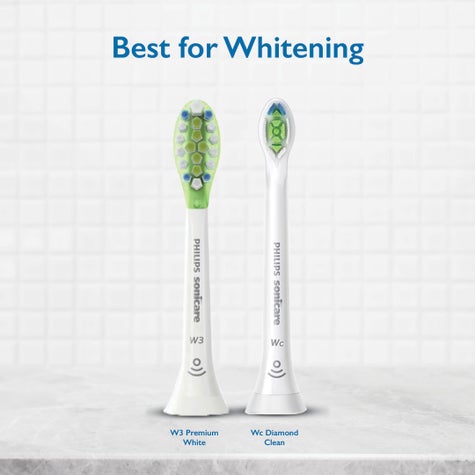 Best for Plaque Removal
Philips Sonicare C2 Optimal Plaque Defence & Philips Sonicare C2 Optimal White Plaque Defence
Compatible with any Philips Sonicare toothbrush handle (except PowerUp Battery and Essence) and formerly ProResults Plaque Control, C2 Optimal Plaque Defence brush heads, are ideal for people who want to achieve super-clean pearly whites! Densely-packed bristles, and a specially curved power tip, make it easier to reach and clean back teeth for maximum plaque removal.
Philips Sonicare C3 Premium Plaque Defence
The deepest cleaning Sonicare brush head, C3 Premium Plaque Defence offers up to 10x more plaque removal than regular manual brushing. Soft, flexing sides adapt to the contours of your teeth and gums for greater surface contact and an effortless deep clean.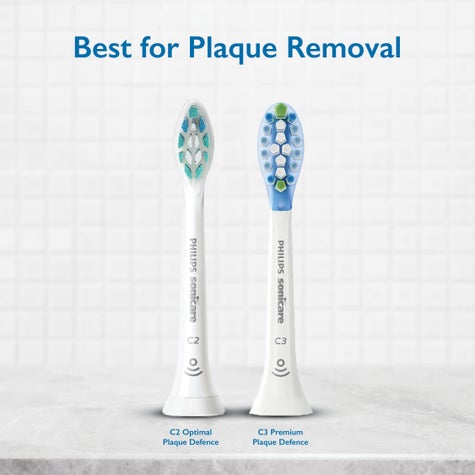 Best for Gum Care
Philips Sonicare G3 Premium Gum Care
If maintaining gum health is a priority for you, G3 Premium Gum Care brush head is a great choice. Protecting gums even if you brush too hard, soft sides flex and adapt to the contours of your gums giving you more surface contact than regular brushing for superior plaque removal at the gum line. Even the deepest clean is gentle, and you'll have healthier gums in just two weeks!
Philips Sonicare Intercare
Getting between teeth to remove plaque can be a challenge, but Intercare's extra-long bristle and advanced tufting technology removes up plaque between the teeth, improving gum health in just two weeks. Hard-to-clean areas are easily reached, giving a superior yet gentle clean that helps eliminate hidden plaque and showcase healthier gums!
Philips Sonicare G2 Optimal Gum Care
Formerly ProResults Gum Health, the G2 Optimal Gum Care brush head is extra gentle on gums but tough on plaque, with outer bristles gently removing plaque from the gumline. A curved power tip makes reaching teeth at the back of the mouth easy too, ensuring stubborn plaque is eliminated in all areas to maintain healthy gums.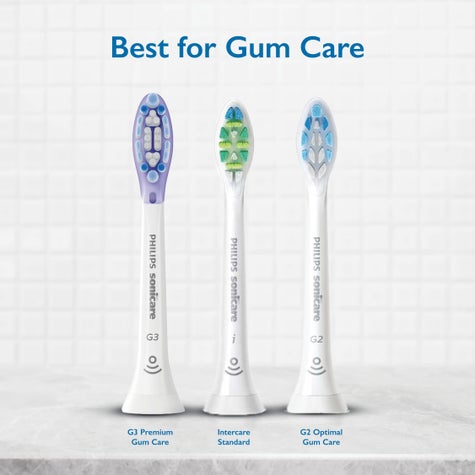 Best for Sensitive Teeth and Gums
Philips Sonicare Sensitive
If you suffer from sensitive teeth and gums, then this is the brush head for you! Sonicare Sensitive cleans your teeth with super soft comfort. Painful teeth and gums don't have to stop you from experiencing an effective clean – relief is at hand with these ultra-sensitive brush heads, clinically proven to remove more plaque than a manual toothbrush!
Best for Children
Philips Sonicare Kids
Perfect for small mouths, Sonicare Kids brush heads consider the specific needs of children, with a brush head designed for little ones aged 3+ and a brush head for older children aged 7+. The contoured profile fits your child's small teeth, and the brush heads will work with any Sonicare click-on toothbrush for a superior clean in seconds, making brushing teeth more pleasant and establishing good habits for life.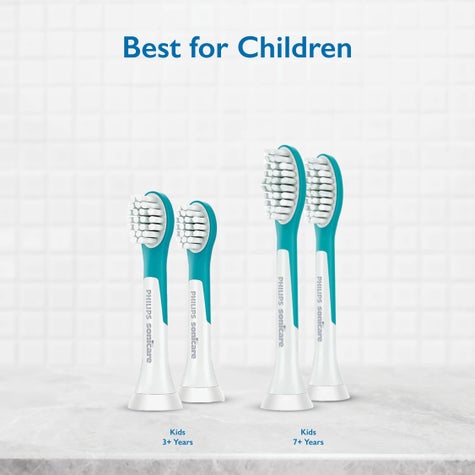 To shop the full range of Philips products at Shaver Shop, click here.