Images
Hover to zoom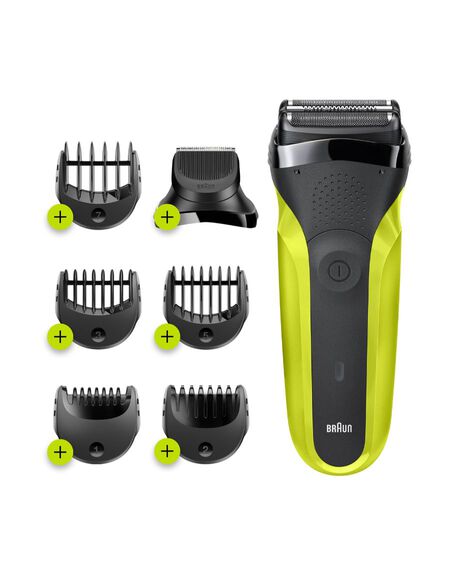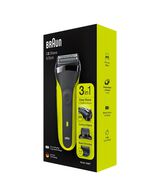 Product Description

Product Description

Shave. Trim. Edge.

This versatile device features three pressure-sensitive shaving elements for shaving efficiency and skin comfort, one beard trimmer head and five combs, for grooming beards and stubbles of 1-7mm.

Clean shave with 3 Flexible blades

The 3 moving shaving elements (3-Flex head) adapt to every facial contour for maximum skin contact. Proven even on difficult 3-day beards.

Precise edges

Attach the trimmer head for easy sideburn and moustache shaping. Braun's Lifetime Sharp Blades are engineered to the highest standards.

Beard trimmer with 5 combs

Attach one of the five combs (1-7mm) to achieve your preferred beard style: a 3-day beard or that casual stubble look.

Thin shaver head

Provides maximum skin contact even in tricky areas, like around the lips.

Gentle on skin

Braun's pressure sensitive blades automatically retract to protect your skin. For a gentle shave and smooth skin feeling.

Washable

Safely wash with water for easy cleaning.

Rechargeable Ni-Mh battery

Series 3 shavers are rechargeable. Full charge in 1 hour for 30 minutes of shaving time. 5-min Quick Charge is enough for one shave.

German design

Ergonomic grip for intuitive use. It all adds up to an effortless shaving and trimming experience.

Included

Series 3 shaver black / green
Trimmer head
Combs:

1, 2 mm
Combs:

3, 5, 7 mm
Protective cap
Cleaning brush
SmartPlug

Product Reviews

Questions And Answers
Product features

Shave. Trim. Edge.
This versatile device features three pressure-sensitive shaving elements for shaving efficiency and skin comfort, one beard trimmer head and five combs, for grooming beards and stubbles of 1-7mm.

Clean shave with 3 Flexible blades
The 3 moving shaving elements (3-Flex head) adapt to every facial contour for maximum skin contact. Proven even on difficult 3-day beards.

Precise edges
Attach the trimmer head for easy sideburn and moustache shaping. Braun's Lifetime Sharp Blades are engineered to the highest standards.

Thin shaver head
Provides maximum skin contact even in tricky areas, like around the lips.