Images
Hover to zoom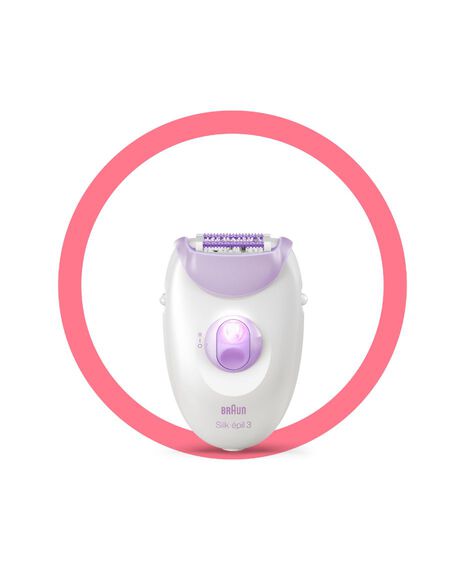 Product Description

Product Description

Gentle: Epilator for women and perfect for beginners, providing up to 100% gentle hair removal in just one stroke.
Every hair: Smartlight technology reveals the finest hairs for no miss hair removal.
Long lasting: Weeks of long lasting smooth skin, not just days.
Less pain: Gently stimulate and massage your skin to reduce pain with the massage rollers.
Efficient: Adapts to every contour for an efficient epilation, even in difficult areas like the knee and underarm.

Box includes:

1 X Epilator
1 X Cleaning Brush
1 X Charger

Long-lasting results
The Silk-épil 3 gently removes hair at the root, for long-lasting results. Great for beginners, massage rollers stimulate the skin for gentle epilation and with Smartlight technology, it reveals the finest hairs for no-miss hair removal.

Tips for beginners
Stay cool and calm. Doing it in water will minimise the pain because it helps to release the body's natural painkillers – endorphins. Hold steady and take it slow.

Choose epilation over wax
Forget about the hassle of waxing. It is much more cost efficient to epilate, and the Silk-épil 3 pays itself off after just 6 months, compared to regular salon visits.

Soft epilation
Epilation doesn't have to be done the hard way. The Silk-épil 3 comes with SoftLift Tips® that lift flat lying hair and guide them to the tweezers for easier removal.

Uninterrupted power
Unlimited energy to epilate. Non-stop performance with corded use. No charging breaks, no performance issues.

20-Tweezer system
Gently removes hairs by the root for long-lasting smoothness.

Smartlight
Reveals the finest hairs for thorough hair removal.

Massage rollers
Gently stimulate your skin to reduce discomfort.

2 speed settings
It comes with 2 speed settings, speed 1 for extra gentle epilation, and speed 2 for an extra efficient epilation.

Comparison

| | | | | |
| --- | --- | --- | --- | --- |
| | Silk-épil Beauty Set 5-885 | Silk-épil 5-810 | Silk-épil 5-620 | Silk-épil 3-170 |
| Great for: | Body epilation, body exfoliations, precision shaving, hair trimming | Body epilation, precision shaving, hair trimming, detailed styling | Body epilation, precision shaving, hair trimming | Body epilation |
| Cordless use - fast recharge | 1 hour charge, 30 mins of operation | 1 hour charge, 30 mins of operation | 1 hour charge, 30 mins of operation | Corded use only |
| Tweezers Count | 28 | 28 | 28 | 20 |
| Additional device | FaceSpa - cleanse | Bikini Styler | | |
| Shaver & Trimmer head | ✓ | ✓ | ✓ | |
| Flexibile epilation head | | | | |
| Extra Wide epilation head | | | | |
| Body accessories | | Beginner cap | | |
| Wet & dry | ✓ | ✓ | ✓ | |
| Smartlight | | | | ✓ |

Product Reviews

Questions And Answers
Product features

Long-lasting results
The Silk-épil 3 gently removes hair at the root, for long-lasting results. Great for beginners, massage rollers stimulate the skin for gentle epilation and with Smartlight technology, it reveals the finest hairs for no-miss hair removal.

Uninterrupted power
Unlimited energy to epilate. Non-stop performance with corded use. No charging breaks, no performance issues.

20-Tweezer system
Gently removes hairs by the root for long-lasting smoothness.

2 speed settings
It comes with 2 speed settings, speed 1 for extra gentle epilation, and speed 2 for an extra efficient epilation.