Images
Hover to zoom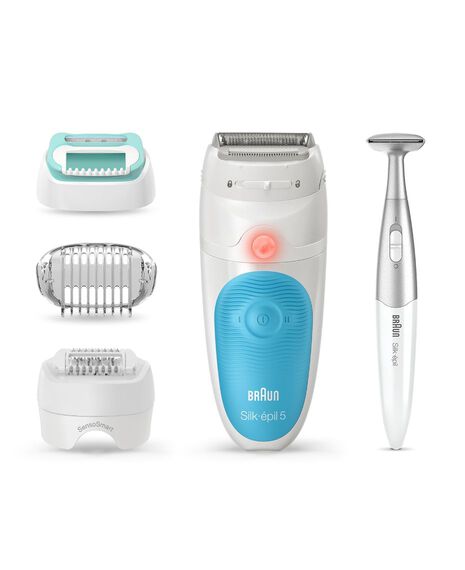 Product Description

Product Description

Gentle: Epilator for women and perfect for beginners, providing up to 100% gentle hair removal in just one stroke, with the new beginner cap.
Precise: Micro-Grip tweezer technology (28 tweezers) for hair removal as short as a grain of sand.
Smooth skin: Shave, trim & epilate for long-lasting smooth skin.
Less pain: High frequency massage cap with pulsating active vibrations to reduce pain sensation.
Efficient: Adapts to every contour for an efficient epilation, even in difficult areas like the knee and underarm.

Box includes:
1 X Epilator
1 X Shaver Head
1 X Trimmer Head
1 X Beginner Cap
1 X Bikini Styler
1 X Cleaning Brush
1 X Charger

Extra gentle epilation
The Silk-épil 5 comes with a setting for gentle hair removal. With anti-slip grip you can epilate in the bath or shower, making it a virtually painless experience with frequent use of water - ideal for women who are new to epilation.

A soft start
Start epilating with a gentle experience. Silk-épil 5 removes hair by the root for weeks of smooth skin, without depending on an appointment.

Smooth moves
Use with gel/shaving foam so the device glides smoothly over your skin. Epilating in warm water relaxes your skin and gives you an even gentler experience.

Bikini line in style
Designed to shave precise lines, shapes or contours - anything you can imagine. Reveal your creativity with the bikini styler.

Smooth Underarms
Wear your favourite tank top with the confidence that your underarms will be soft and smooth. For extra sensitive areas, we recommend using the shaver head included in the set.

High frequency massage cap
The new Silk-épil 5 comes with a massage cap for a more comfortable and gentle epilation.

Shave and trim
The shaver head turns the epilator into a fully functional shaver, while the trimmer cap lets you trim hair if you prefer.

Wet & Dry
100% waterproof, you can epilate in the bath or shower with the anti-slip grip. Epilation becomes virtually painless with frequent use in water.

2 speed settings
It comes with 2 speed settings, speed 1 for extra gentle epilation, and speed 2 for an extra efficient epilation.

Product Comparison

| | | | | |
| --- | --- | --- | --- | --- |
| | Silk-épil 9-890 | Silk-épil 9-720 | Silk-épil Beauty Set 5-885 | Silk-épil 5-810 |
| Great for: | Body epilation, precision shaving, hair trimming, detailed styling | Body Epliation, precision shaving, hair trimming | Body epilation, body exfoliations, precision shaving, hair trimming | Body epilation, precision shaving, hair trimming, detailed styling |
| Cordless use - fast recharge | 1 hour charge, 50 mins of operation | 1 hour charge, 50 mins of operation | 1 hour charge, 30 mins of operation | 1 hour charge, 30 mins of operation |
| Tweezers Count | 40 | 40 | 28 | 28 |
| Additional device | Bikini Trimmer | | FaceSpa - cleanse | Bikini Styler |
| Shaver & Trimmer head | ✓ | ✓ | ✓ | ✓ |
| Flexibile epilation head | | | | |
| Extra Wide epilation head | ✓ | ✓ | | |
| Body accessories | | | | Beginner cap |
| Wet & dry | ✓ | ✓ | ✓ | ✓ |
| Smartlight | ✓ | ✓ | | |

Product Reviews

Questions And Answers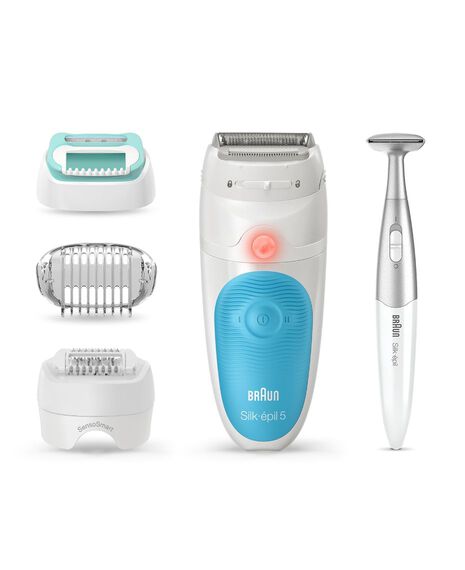 Product features

A soft start
Start epilating with a gentle experience. Silk-épil 5 removes hair by the root for weeks of smooth skin, without depending on an appointment.

Shave and trim
The shaver head turns the epilator into a fully functional shaver, while the trimmer cap lets you trim hair if you prefer.

Wet & Dry
100% waterproof, you can epilate in the bath or shower with the anti-slip grip. Epilation becomes virtually painless with frequent use in water.

2 speed settings
It comes with 2 speed settings, speed 1 for extra gentle epilation, and speed 2 for an extra efficient epilation.