Images
Hover to zoom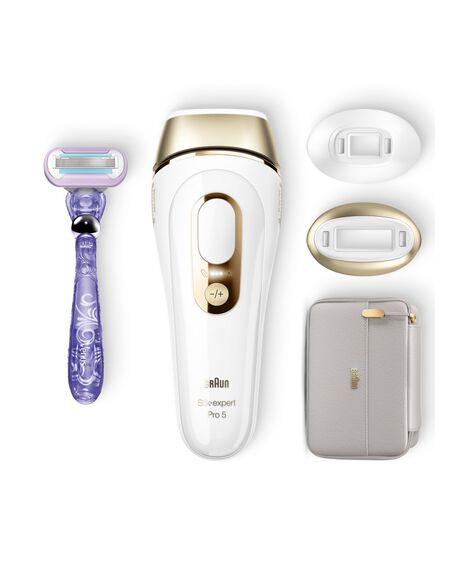 Product Description

Product Description

Always read the instructions and use only as directed. See in-store for more details. Not suitable on red, light blonde, white/grey hair or very dark skin.

Up to 6 months of salon-like smooth skin¹ from head to toe. The machine flashes up to every 0.5 seconds for effortless gliding and thorough coverage for fewer missed spots.

10 intensity levels

SensoAdapt™automatically optimizes the power of every flash for your skin tone.

2 Treatment Modes

Glide mode for faster treatment on large areas, and stamp mode for enhanced precision on smaller, sensitive sections

Non-stop power

Does not require batteries or charging. Simply plug in the device and begin treatment

In the box

Silk-expert Pro 5
Precision head
Venus Extra Smooth Swirl razor
Soft Pouch

Product Reviews

Questions And Answers
Product features

400,000 Flashes & 10 Intensity Levels
400,000 flashes (+30% vs previous Silk-expert 5) deliver an equivalent of 22 years of treatment. The 10 intensity levels ensure the light intensity is right for your skin tone

Clinically Tested
Clinically tested by experts, treatments are gentle & virtually painless.

The Fastest IPL
Treat both legs in less than 5 minutes at the lowest energy level. 2 times faster than the previous Silk-expert 5.

Fast Gliding & Stamp Mode
The gliding mode triggers more flashes for the fastest treatment, ideal for large body parts, while the stamp mode provides a more precise treatment suitable for smaller & sensitive areas.

Precision Head
The precision head allows you to tackle smaller or trickier areas like face, bikini & underarms.

The Safest IPL Thanks to SensoAdapt™ Technology.¹
Skin tone varies across your body, so the SensoAdapt™ sensor (with UV protection) continuously reads the skin tone &adapts the flash intensity for the safest & most effective permanent visible hair removal. ¹ Efficiency based on the combination of window size, speed & energy. Safety technology shared with Cyden.

Venus Extra Smooth Swirl Razor