Images
Hover to zoom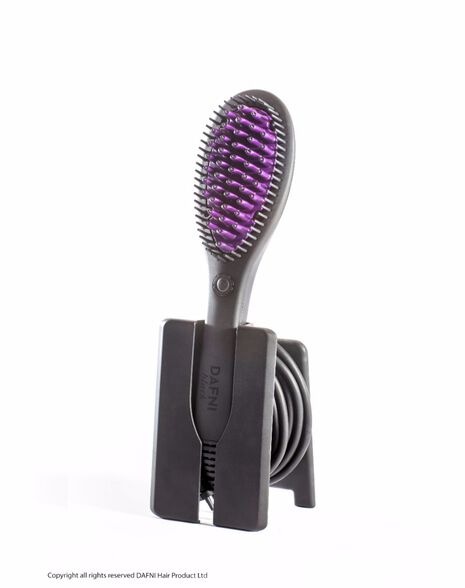 Product Description

Product Description

Introducing Curved Core™ Technology. Changing The Game. Again.

This innovative hair straighening brush is perfect for quick styling in minutes. The NEW DAFNI Black's curved surface allows you to capture more hair in each stroke and is much quicker than traditional straighenting hair tongs.

The curved surface perfectly complements the curvature of the scalp to achieve maximum efficiency from the root to the ends of the hair. DAFNI black™ makes it easier than ever to style all hair types of any length.

Top quality 3D ceramic coating
15 minutes auto shut down
High-end heat resistant isolation used by NASA
Springy bristles to protect the scalp
Built-in safety features
Ready to use in 45 seconds
Ergonomic handle
Maintain 185 C heat in each stroke
Anti-static outer bristles

Staff Tip: Angela from Head Office Suggests.......

Not sure about the Dafni? Try in store! Shaver Shop stores throughout Australia offer demostrations of the innovative Dafni brush so feel free to try the product for yourself first. Feel the weight and see the results first hand. From my experience the Dafni Hair Straighening Brush is much faster than traditional straighening tongs on my curly hair however the results aren't as flat as the tongs. DAFNI black™ boasts more natural looking results, straighening with some volume.

Use on freshly washed, dry hair for best results and to acheive a perfect blow way look when you have frizzy hair, finish off with a smoothing serum.

Product Reviews

Questions And Answers
Product features

Easy to Use
DAFNI is a revolutionary hair straightening brush. Simply brush your hair and it will be straight and smooth in minutes. No fuss, no clips - Just brush it!

Saves Time
DAFNI offers hair care that suits your fast pace of life. With DAFNI you are able to straighten your hair in just several minutes. Ready · Straight · Go!

Safer for Hair
DAFNI was developed specifically for the top recommended temperature of 185˚ which remains practically constant during every brush stroke; in this way you will be able to maintain a straighter, healthier hair.

The Original
Please be aware that due to the popularity of DAFNI Hair straightener we are seeing an increasing number of fake websites, counterfeit products and imitations being sold. Customer safety is our primary concern so please ensure your DAFNI is the original & the BEST!