Images
Hover to zoom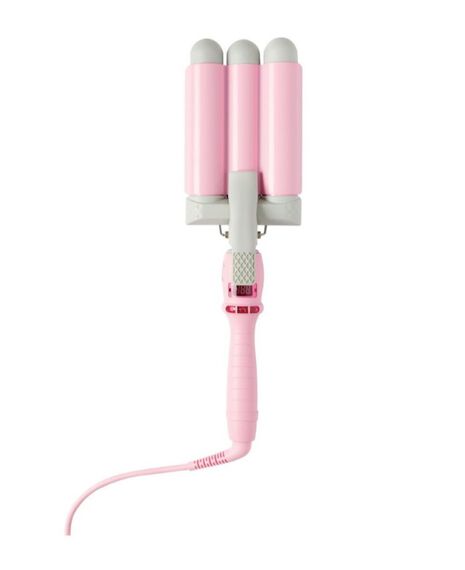 Product Description

Product Description

The perfect solution for babes who struggle to curl or wave their hair. It's the hair tool you didn't even know you needed, loved by celebrities & stylists across the globe.

FEATURES

Three XL barrels - create big bouncy waves with the largest waver barrels on the market

Advanced heat technology - within 60 seconds the hair waver will be ready for glam

NEW heat resistant soft-touch handle - exclusive new design to improve user experience

New safety stand - to protect your surfaces from heat

Multiple heat settings - to suit all hair types and looks

Auto-shut off - automatically turns off after one hour

Swivel cord and spring lever - NEW 2.5m cord for professional use

Heat protection glove - our pink glove will save your fingers from any Mermade heat

Universal voltage - plug and play anywhere around the world

HOW TO

The Mermade Hair 32mm PRO Waver is the best tool for super easy-to-get lush Mermade Waves! There is no need for winding, rolling, twisting or pulling the hair! Simply, clamp and release. It's the easiest way to transform your hair into lush long waves. It's perfectly suitable for all hair types and lengths from short bobs to super long hair!

Step 1. PREP

The key to long lasting, lush waves is PREP. You want to inject your hair with a heat protectant and contour spray, like our Mermade Mist 125mL, which will protect your strands from heat and give your hair extra hold. Once you have prepped your locks, you want to make sure your hair is 100% dry.

Step 2. WAVE

We suggest starting at the lowest heat setting. Section and clip the hair into four or more parts. Starting from the back 1-inch off the scalp, take small sections for a more defined Kardashian wave or larger sections for your beachy undone wave. Comb and clamp hair, hold for 2-5 seconds releasing and following the same method through to the ends repeating throughout the whole head.

Step 3. MADE

Once you have finished waving, make sure the hair has completely cooled down before beginning your MADE regime. Either use your fingertips, our Mermade Brush or a large wide tooth comb and softly brush out your waves to get the look you want. Finish by using an extra spray of Mermade Mist 125mLfor hold and shine, or a flexible workable spray or a lacquer spray for more hold.

Product Reviews

Questions And Answers
Product features

Exclusive PRO edition
a NEW exclusive design that waves your hair 50% faster than the previous model. Clamp your hair & within 2-3 seconds it will have a smooth, luxe wave!

Advanced ceramic barrels
NEW high-grade ionic ceramic barrels to protect your hair from unnecessary damage. The waver will seal cuticles, infuse moisture, eliminate frizz and create shine.

Super easy to use
simply clamp down and release with our new design

Crimp-free design
Mermade PRO has it's own exclusive design to create beautiful ripple, boho or beach waves that will not leave any crease or "crimped" look.