Images
Hover to zoom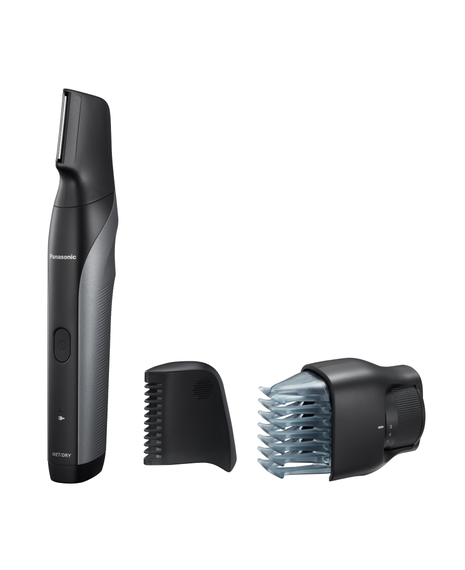 Product Description

Product Description

Multidirectional Shaving for Quick, Easy Trimming

Unlike previous trimmers that can only cut in one direction, this trimmer can cut in both directions. This enables fast trimming, and you can change the cutting direction to match the area for easier grooming.

Faster Charging for Extra Convenience

Charging is faster than ever, with a full charge taking just an hour. Even if the battery runs out, a quick charge is all it takes and you're ready to start trimming.

* Compared to the ER-GK60

Wet/Dry Shaving with Waterproof Design

Waterproof specifications enable body hair grooming in the shower.

And for more convenience, dry shaving without using shaving foam is also possible.

Water Through Cleaning for Easier Maintenance

After using, simply wash with water for easy cleaning.

Waterproof specifications mean you can wash the whole unit as it is.

* Oil the trimmer before and after use.

Gentle & Ergonomic

Wet and dry use with our Skin Protective Blade technology and unique ergonomic design.

Shaving & Trimming

A close shave of 0.1mm, or trimming from 2 to 12mm.

Fast & Powerful

The multi-directional design and ultrathin blade provide a quick and efficient close shave.

Product Reviews

Questions And Answers
Product Code
ER-GK80-S541
Details
https://www.shavershop.net.nz/panasonic/premium-wet-and-dry-precision-body-groomer-011395.html
Frequently bought with this item
Product features

Ergonomic Design for Comfortable Use
Enables easy directional movement and detailed body grooming of harder to reach areas. Holding the end of the handle enables shaving of awkward places such as the back and buttocks.

Comb Attachment with Length Adjustment Dial
Attachment lets you uniformly trim body hair to the desired length. Length is adjustable with the dial in 10 steps from 3 to 12 mm in 1 mm intervals. * Length without attachment: 0.1 mm

Ultra-thin Blade for a Close Shave
The ultra-thin trimmer blades provide a close shave, as close as 0.1mm for a smooth feel. Alternatively, use the adjustable attachments to achieve your desired hair trimming length.

Gentle on Skin - Skin Protective Blade Technology
The blade of the ER-GK80 features rounded edges and narrow gaps, greatly reducing pinching, irritation and damage to skin.

Skin-guard Attachment for Sensitive Areas
The tips of the included skin-guard attachment are rounded to be gentle on sensitive skin. The guard provides a space of approx. 2mm between the blade and the skin to enable safe cutting in sensitive areas.