Images
Hover to zoom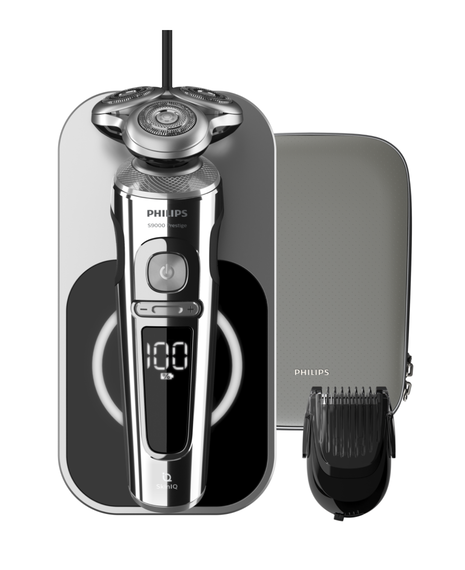 Product Description

Product Description

The closest electric shave

Blades with extra strong, sharp edges for ultimate closeness.
Follow every contour, catching even difficult hairs.

SkinIQ technology

Ensures the perfect blade position for a precise cut.
Philips' most advanced motor for high-speed efficiency.
Rings coated with metallic pigments for superb gliding.
Adjusts to your beard for effortless shaving.
Three personal shaving modes for a personalised routine.

Premium experience

Qi charging pad included, for wireless charging.
Shave wet, dry and even under the shower.
Click-on beard styler with 5 length settings.
Protects your shaver, accessories and Qi charging pad.
Simply open the shaving head and rinse it for easy cleaning.

Replacement Parts

It is recommended to replace the head every 2 years with the Series 9000 Replacement Head - SH98/71

Product Reviews

Questions And Answers
Product features

NanoTech Dual Precision blades
With up to 150.000 cutting actions per minute, the NanoTech Dual Precision blades deliver extremely close results at skin level. Hardened with nano particles, the 72 self-sharpening blades have extra strong and long lasting sharp edges for an ultimate closeness at all times.

Superb SkinGlide coating
Get a shave that glides extremely smoothly over your skin, with the Superb SkinGlide coating. The rings with metallic pigments have an anti-friction coating for superb gliding.

Personal Comfort settings
Adjust the speed of your shaver and personalises your shaving routine to your own skin and preferences.

High-control suspension system
Philips' high-precision suspension system ensures the perfect blade position, so that every cut is performed at maximum precision, avoiding pulling and discomfort.

Wireless Qi charging pad
Wirelessly charge your shaver or any other Qi- compliant device by simply placing it on the Qi charging pad which comes with the shaver.

360-D+ Flexing heads
Get an extremely close, smooth shave. 360-D+ Flexing heads follow every contour of your face, catching even difficult hairs.

Top-spin digital motor
Philips' most advanced digital motor has the highest turning power. This ensures maximum efficiency for a precise shave no matter the facial contour or hair density.

Power Adapt sensor
The intelligent facial-hair sensor reads hair density 500 times per second. The technology auto-adapts cutting power for an effortless and gentle shave.