Images
Hover to zoom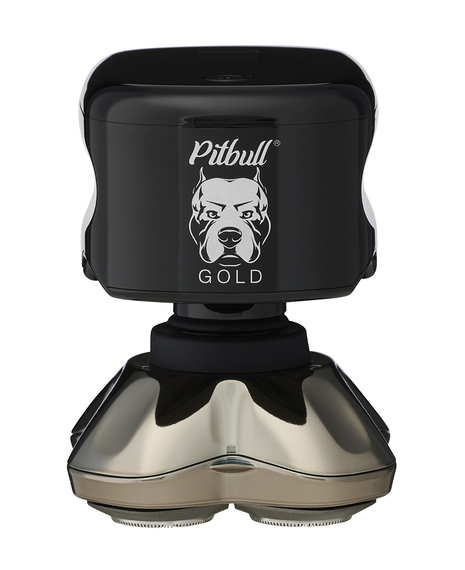 Product Description

Product Description

The Pitbull PRO shavers are equipped with a signature patented innovative ergonomic handle which offers easy grip and perfectly fits your hand to ensure comfortable and intuitive shaving of your head and face. Thanks to the unique design, the shavers easily get to all tough to reach areas ensuring impeccable results. The Pitbull Gold PRO offers an advanced solution to head shaving. Now featuring a LCD numeric display and even more powerful battery*, the Pitbull Gold PRO head shaver gives you the ultimate head shaving experience.

The Pitbull Gold PRO Head Shaver uses IPX5 technology and is water resistant giving you the freedom and convenience of shaving in the shower, as well as easily rinsing your shaver under the running water. The shaver is also perfectly adapted for dry shaving offering high quality close shave and exceptional results.

The Pitbull Gold PRO gives you the freedom to shave anywhere and anytime at your convenience. It's a must-have for travellers who often need a quick shave on the go. The shaver also perfectly works in plug and shave mode: a great alternative in case you forgot to charge it.

The Pitbull Gold PRO comes with the Forte Blade PRO. The Forte PRO Blade features dual cutting rings and bevelled foil mesh. Cutting performance between Carver and Forte is similar, although Forte will feel smoother as it glides across your skin due to the curved and bevelled foils. Forte is our most popular and is the best choice for most people. The rotary shaving heads glide smoothly over irregularities and works for those with trouble areas due to birthmarks, freckles, scars, or those who simply cannot afford to break the skin.

What's included?

1 x Pitbull Gold PRO Head Shaver
1 x Forte PRO Blade
1 x Cleaning Brush
1 x USB Charging Cable/Adapter
1 x Soft Pouch

*Compared to the Skull Shaver Pitbull Silver PRO Head Shaver.

Product Reviews

Questions And Answers
Product features

Professional Performance
The Pitbull PRO Skull Shaver is made of high quality materials using technically advanced equipment and production facilities. The shaver comes with our all new PRO blade design that promises the best performance and longevity yet.

Wet Shave in the Shower
Pitbull Gold PRO gives you the freedom to shave the way you prefer. Wet or dry, with shaving foam or without. The results are impeccable each time.

No Nicks, No Cuts
The rotary shaving heads make fast work of your stubble, allowing you to safely shave in any direction. No more painful nicks, stinging cuts, or raised scars that keep getting nicked.

90 minutes of Cordless Use
Pitbull Gold PRO electric shaver is equipped with powerful integrated lithium-ion battery (1400 mAh) which allows quick charging and 90 minutes of cordless use. This gives you the freedom to shave anywhere and anytime at your convenience.

Battery Life Indicator
Know exactly when your shaver should be charged. The integrated LED illuminated LCD display clearly shows the battery level in percentages to make the daily use of your shaver even more practical.

Exceptional Contouring
The Pitbull PRO Shaver Head contours specifically to your head or face while you shave. Each blade floats independently, allowing 360° of contouring.

Deeper Cleaning
Removable blades come off in a snap making it easy to give your blades a deep clean inside and out. Keeping your blades clean will greatly extend blade life and keep your shaves as smooth as day 1.

Less Mess
Skull Shaver PRO blades are designed to capture hair shavings inside their large shaving chambers. Hair stays off your skin and shirt so you can always have a clean shave and look your best wherever you go.