Images
Hover to zoom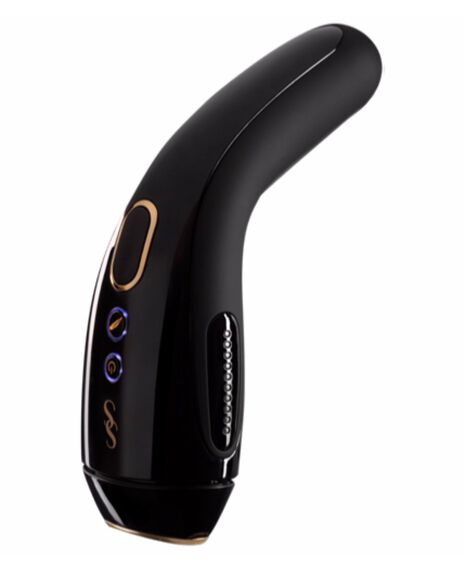 Product Description

Product Description

Always read the instructions and use only as directed. See in store for more details. Not suitable on red, light blonde, white/grey hair or very dark skin.

SmoothSkin Gold delivers personalised treatments using our Detect and Set technology that adjusts the power level to your skin tone.

Product Reviews

Questions And Answers
Product Code
CA00-1180-01
Product features
For Most Skin Types
Not suited to very dark skin, or to treat red, light blonde or white/grey hair. For added safety, built-in sensors ensure the device never fires on an unsuitable skin tone.

Fast and Powerful
SmoothSkin Gold is the most powerful IPL home use hair removal device in the market. You can treat unwanted hairs in just a few moments making treatments quick and easy. At its fastest, the time between flashes is less than 1 second which means you can treat large areas quickly.

Safe and Easy To use
The device is all about taking complex technology and making it simple. SmoothSkin Gold has a unique Detect and Set feature for personalised treatment, it has dual treatment modes (Glide and Stamp) and most importantly no gel. All these features together with the beautifully crafted ergonomic design combine give you the best IPL hair removal experience possible.

Detect and Set Feature
Part of the unique beauty experience with SmoothSkin Gold is the 'Detect and Set' feature. This feature means you do not have to worry about choosing skin tone settings as the device automatically detects it for you. It is very simple and you can see your skin tone setting indicated by the power bars either side of the treatment window.

For Use on The Body and Face
SmoothSkin Gold can also be used to remove unwanted facial hair. As the facial area is generally more sun exposed our Detect and Set feature means you can safely treat the face. The 'Detect and Set' feature automatically selects the most accurate energy setting for you every time. So you do not need to worry about areas exposed to the sun as the device adjusts the energy level to suit your exact skin tone.

Includes 200,000 Flashes
SmoothSkin Gold includes 200,000 flashes. It is recommended you follow the 12 week regime and then continue treating monthly as required to maintain beautiful, hair free skin. You have more than enough flashes to treat the whole body and the face for up to 6 years.

Glide and Stamp Treatment Modes
SmoothSkin Gold offers dual treatment modes making it ideal for small and large areas. Glide Mode is advised for large treatment areas, such as the legs, where you hold down the activation button and continuously glide along your skin between each flash. Stamp Mode is recommended for smaller delicate areas, such as the bikini line and you simply place the device on your skin each time you flash for maximum precision.

Gentle Mode
Pressing the Gentle Mode button will reduce the energy released by the device which can help those who have sensitive skin or find the treatment too uncomfortable initially. This button can be easily deactivated and the device will return to its standard power settings.