Images
Hover to zoom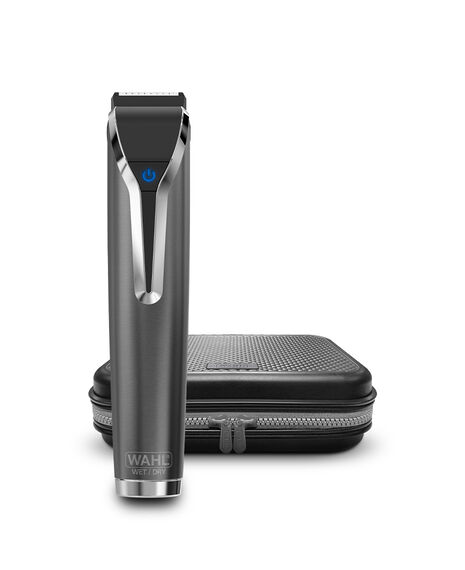 Product Description

Product Description

This new Waterproof Stainless Steel now includes:

Waterproof to IPX7 for use in the shower, bath or rinsing the unit in water
Diamond-like coating (DLC) on the Ultra-Close T-Blade for a smoother, cooler cutting experience
The new vertical trimmer head is ideal for removal of unwanted ear, nose or eyebrow hair
New guide comb design offers improved durability and performance
Lithium-ion battery power
6-hour run time from 1-hour of charge, and 1-minute quick charge feature
Travel lock feature
Made in the USA
2-year warranty
An improved storage pouch
Four sleek colours within the range

Kit includes:

Waterproof Stainless Steel Trimmer
4 attachment heads

Standard Precision Ground blade
Diamond Edge Blade
Detail Shaver
Vertical Trimmer

10 x premium guide combs

Elite Guide combs - ½, 1, 1½, 2 (1.5mm, 3mm, 4.5mm, 6mm)
Elite T-Blade Guide Combs - ½, 1, 1½, 2 (1.5mm, 3mm, 4.5mm, 6mm)
Standard 10-position adjustable guide comb 2-11mm
T-Blade 10-position adjustable guide comb 2-11mm

Stainless Steel Stand
Storage pouch
Moustache comb
Cleaning Brush
Charger
Blade oil

Product Reviews

Questions And Answers
Product features

Precision Ground Blade
Ideal for grooming stubble to a full beard

Diamond Edge Blade
Diamond-like carbon coating results in a smoother, cooler cutting finish.

Detail Shaver
Here we have the perfect finishing attachment! The Detail Shaver gives you the perfect, bump-free finish. Use this on the skin after you have trimmed it with any of the appropriate blades to complete your look.

Vertical Trimmer
Ideal for removal of unwanted ear, nose and eyebrow hair

Waterproof Feature
Rated to IPX7 meaning that it can be fully submerged for up to 1 hour. Perfect for use in the shower, bath or rinsing the entire unit underwater.

LED Light
Used to indicate battery level or charging the LED light creates a lustrous illumination that when flashing indicates when the battery is charging or running low.

Elite Guide Combs - 34 Cutting Lengths
The newly designed combs are 35% stronger and now also have metal clips, meaning improved durability & are also a more secure fit. Ranging from #1/2 - #2 guide combs, plus two 10-position guide combs for use with the Ultra-Close T-Blade, & Standard Precision-Ground Blade.

6-hour run Time
Your trimmer will run for 6-hours off 1-hour charge or use the 1-minute quick charge feature for a 5-minute run time.

Travel Lock Feature
Designed as a safety feature for when storing or traveling, this feature locks your trimmer, so it doesn't accidentally turn on.