Images
Hover to zoom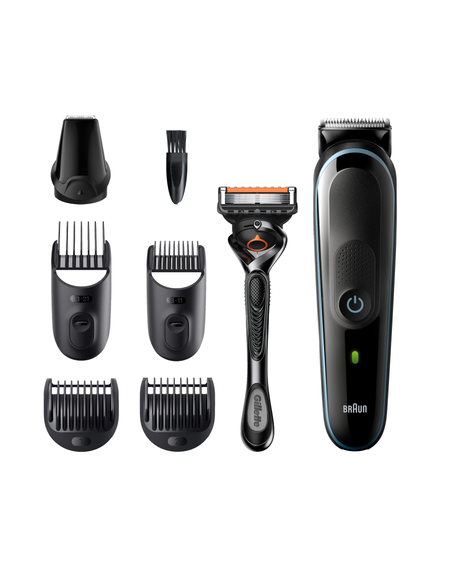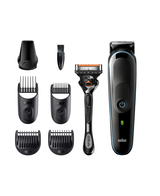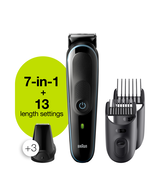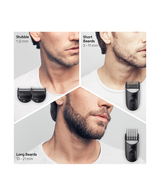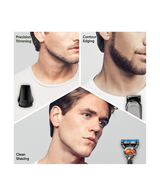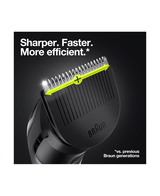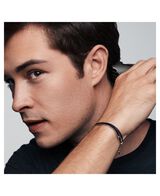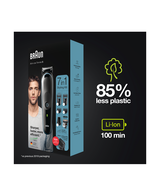 Product Description

Product Description

Adapts to any beard with AutoSensing Technology
Braun's innovative AutoSensing Technology, reads your beard 13 times per second and adjusts the power of the trimmer motor to its thickness, providing an effortless trim for any beard type. The motor provides extra power exactly where it's needed, allowing Braun trimmers to deliver unprecedented performance vs. all previous generations of Braun trimmers.

Long beard trimming
Maintain longer beard or hair styles with the 11–20 mm comb.

Short to medium beards
The short beard comb helps you maintain short to medium beards (0.5–10mm) and stubbles.

Hair clipping
Cut your hair to the precise length you need – from 0.5–21 mm, with the two dual-purpose adjustable combs.

Contour edging and detail trimming
Create accurate lines & edges with the beard trimmer head. Tackle particularly small areas with the detail trimmer head.

Gillette Fusion 5 ProGlide razor
Clean shave neck, cheeks and face with the Gillette Fusion 5 ProGlide razor with FlexBall Technology.

Long Lasting Lithium-Ion battery
100 minutes of trimming. Full recharge in 1 hour. 5 Minute quick charge for 1 trim.

Washable
Safely wash head under running water for easy cleaning.

The ultimate styling kit
The ultimate all-in-one styling kit, helping you achieve 7 jobs with 1 device.

Includes

All-in-one trimmer
Detail trimmer
Long beard trimming comb (11-20mm)
Short to medium beard trimming combs (0.5-10mm)
Hair clipping combs (0.5–21 mm)
Gillette Fusion5 ProGlide razor
Smart plug charger

Product Reviews

Questions And Answers
Product features

Adapts to any beard with AutoSensing Technology
Braun's innovative AutoSensing Technology, reads your beard 13 times per second and adjusts the power of the trimmer motor to its thickness, providing an effortless trim for any beard type. The motor provides extra power exactly where it's needed, allowing Braun trimmers to deliver unprecedented performance vs. all previous generations of Braun trimmers.

Long Lasting Lithium-Ion battery
100 minutes of trimming. Full recharge in 1 hour. 5 Minute quick charge for 1 trim.

Washable
Safely wash head under running water for easy cleaning.

The ultimate styling kit
The ultimate all-in-one styling kit, helping you achieve 7 jobs with 1 device.