Images
Hover to zoom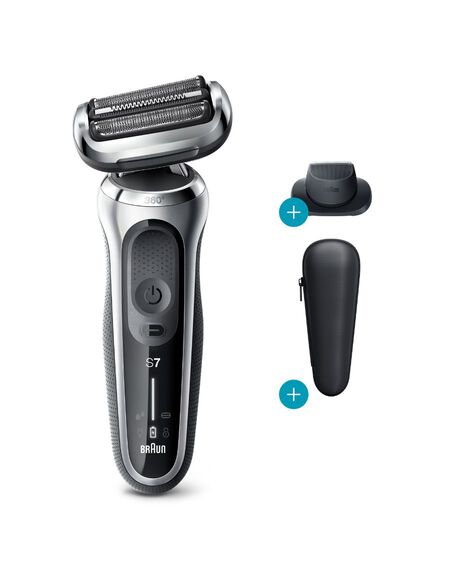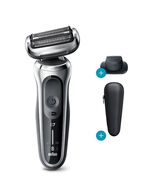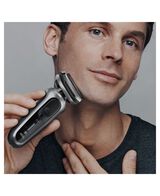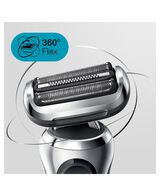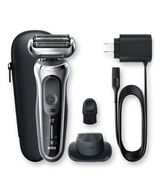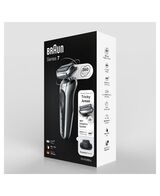 Product Description

Product Description

Electric razor with 360° adaptation for a smooth shave, even in tricky areas
AutoSense technology reads and adapts power to beard density. Shaving even dense beards
Li-Ion Battery for up to 3 weeks of shaving (50 min). 5 min quick charge for one full shave
100% waterproof electric razor for Wet & Dry use[Product description: 100-150 characters]

Box includes

1x Series 7 Electric razor for men - Silver
1x Precision Trimmer attachment
1x Travel case
1x Smart plug for automatic 100-240 voltage adjustment
1x Cleaning Brush

A smooth shave, even in tricky areas.
The 360° Flex head adapts to deliver maximum contact for a smoother shave, even in tricky areas.

Autosense technology
The shaver reads and adapts to your beard density, removing hairs in every stroke.

Upgrade with EasyClick
Upgrade your shaver for more grooming needs. Includes a Precision Trimmer attachment for moustache and sideburns trimming.

Easy to handle
The new ergonomic handle enables an effortless shave with simple, one way movement.

Longer Lasting Li-Ion Battery
1 full charge provides up to 3 weeks' worth of shaving.
5 min quick charge is sufficient for 1 full shave.

100% waterproof for Wet & Dry use
Designed to shave dry, with foam, gel and in the shower.

Engineered in Germany
Our products are made to last: We offer 2 years warranty and up to 10 years repair service.

Comparison

| | | | |
| --- | --- | --- | --- |
| | Series 7 - 70-N7200cc | Series 7 - 70-N1200s | Series 6 - 60-B4500cs |
| | Smooth Shave | Smooth Shave | Sensitive shave |
| Sonic technology | | | |
| AutoSense technology | • | • | |
| Head adaptation | 360° Flex | 360° Flex | Swivel head |
| 100% waterproof | • | • | • |
| SmartCare Center included | • | | |
| Quick charge | • | • | • |
| Battery | Li-Ion 50 min running / 1h charging | Li-Ion 50 min running / 1h charging | Li-Ion 50 min running / 1h charging |
| Accessories included | SmartCare Center, Precision Trimmer, Travel Case, Cleaning brush | Precision Trimmer, Travel Case, Cleaning brush | Beard Trimmer, Charging Stand, Travel Case, Cleaning brush |
| Replacement head | 73S | 73S | 53B |

Product Reviews

Questions And Answers
Product features

Autosense technology
The shaver reads and adapts to your beard density, removing hairs in every stroke.

Upgrade with EasyClick
Upgrade your shaver for more grooming needs. Includes a Precision Trimmer attachment for moustache and sideburns trimming.

Easy to handle
The new ergonomic handle enables an effortless shave with simple, one-way movement.

Longer Lasting Li-Ion Battery
1 full charge provides up to 3 weeks' worth of shaving.
5 min quick charge is sufficient for 1 full shave.