Images
Hover to zoom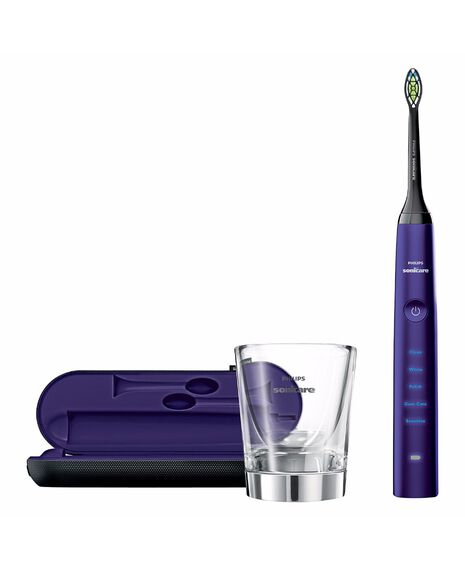 Product Description

Product Description

Achieve whiter, healthier teeth from the most elegant Philips Sonicare ever. The Philips Diamond Clean electric toothbrush removes up to 7 times more plaque than a manual toothbrush.

Includes 2 DiamondClean standard brush heads and dual charging system (charger glass and USB travel case), allowing you to take your Diamond Clean anywhere and everywhere.

Proven to improve oral health

Up to 7x more plaque removal than a manual toothbrush
A whiter smile in 1 week with our DiamondClean brush head*
Protects gum health
Safe and gentle for your oral health needs

Provides a superior clean

Philips Sonicare's advanced sonic technology
Angled neck to help tackle cleaning in tough areas

Designed around you

USB charging travel case and charging glass
Timers encourage thorough 2 minutes of brushing
Easy start program builds your Philips Sonicare routine

* *based on two periods of two-minute brushings per day, on clean mode

Product Reviews

Questions And Answers
Product features

Removes up to 7x more plaque
Removes up to 7 times more plaque from hard to reach places than a manual toothbrush.

Dynamic Cleaning Action
Philips Sonicare electric toothbrush's unique dynamic action gently and effectively reaches deep between teeth and along the gumline.

Improves Gum Health
This Philips Sonicare electric toothbrush provides optimal cleaning between teeth and along the gumline for improved gum health in just two weeks.

DiamondClean Toothbrush Head
DiamondClean toothbrush heads, Philips Sonicare's best whitening brush head, have diamond shaped bristles to effectively yet gently remove surface stains and scrape away plaque. Removes stain build up from coffee, tea, red wine, cigarettes and tobacco in just 1 week.

Dual Charging System
1) Charger glass - Simply place your Philips Sonicare electric toothbrush in the glass to charge. Can also be used to rinse your mouth after brushing. 2) Charging travel case - Connects to your laptop via USB or can be charged by wall outlet. Allows you to take your DiamondClean anywhere and everywhere.

Up to 2x Whiter Teeth
This Philips Sonicare toothbrush whitens teeth more than 2x better than a manual toothbrush in just 1 week. Removes up to 100% more stains for whiter teeth in just 1 week.

2 Minute Timer
2-minute timer on this Philips Sonicare electric toothbrush helps ensure dental professional recommended brushing time

Quadpacer Timer
30 seconds interval timer indicates when you have completed each quadrant of your mouth and signals for you to move on resulting in more consistent cleaning throughout your mouth

Sensitive Mode
Philips Sonicare toothbrush with Sensitive Mode: Gentle, yet thorough cleaning for sensitive gums

Helps Whiten Teeth
Philips Sonicare's best teeth whitening: this toothbrush helps to remove and reduce stains on your teeth for a brighter smile.